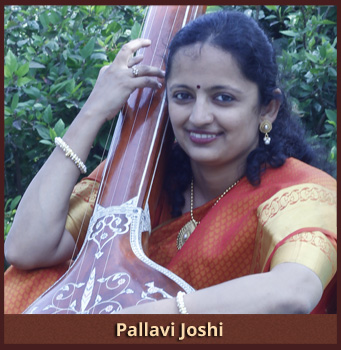 Pallavi Joshi
Born in the family of musicians, Pallavi has inherited traditional music and represents the 5th generation of the rich heritage of her family.

Her training started at the age of 5 from her grandfather, Pandit Gajananbuva Joshi whose gayaki was a perfect blend of three gharanas Gwalior, Jaipur and Agra gharana.

After the demise of Pt. Gajananbuva Joshi, she has taken her training from her uncle Pt. Madhukar Joshi for more than 25 years.

She also has received guidance from her aunt Dr. Sucheta Bidkar & from her father, Shri. Manohar Joshi

She has been awarded Govt. of India National Scholarship for Hindustani Classical vocal young artistes.
Pallavi is a graduate in Botany. Her Music Album Rising Stars is released in 2010 and Madhumalati Part 2, comprising of compositions of 25 ragas is released in October 2012

She has given many solo concerts and sahagayan concerts with her elder sister Smt Apoorva Gokhale in a number of prestigious music conferences in India.