Pallavi Joshi's - Achievements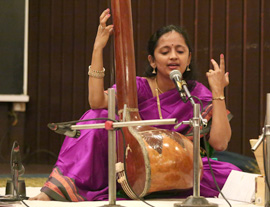 Her Music Album Rising stars is released in 2010 and Madhumalati Part 2, comprising of compositions of 25 ragas is released in October 2012.

Some of the highlights of her academic and musical career are:
She is graduate in Botany
Recipient of Junior Scholarship in Indian Music from the Govt. Of India, Ministry of Culture
Recepient of Padmshri Smt Manik Varma Award 2018 From Pune Bharat Gayan Samaj
She has given many solo concerts and sahagayan concerts with her elder sister Smt Apoorva Gokhale in a number of prestigious music conferences in India.
Few of them are listed below.

Aundh Sangeet Mahotsava
Shivanand Swami Sangeet Pratishthan
Kalyan Gayan Samaj
Bharat Gayan Samaj, Pune
Lalit Kala Kendra, Mumbai
Maharashtra Seva Sangh, Mulund
Dadar Matunga Cultural Centre, Mumbai
Govt of India sponsored - Sadhana Mahotsava, Bhopal & Jalgaon
NCPA, Mumbai, Pune & Maharashtra
Sawai Gandharva Vishwastha Sanstha, Kundgol (Karnataka)
Karkala Music Festival
Kashi Sangeet Samaj, Varanasi
Sitar Ratna Rahimatkhan Sanget Utsav, Dharwad
Surashree Kesarbai Kerkar Sangeet Samaroh Goa (Sahagayan)
Sawai Gandharva Bhimsen Mahotsav, Pune (Sahagayan)
Engage arts, Singapore (Sahagayan)

Website :- www.apoorvapallavi.com
Email :- pallavijoshimusic@gmail.com
Mobile No. :- +91-9869558661/9920792508
Residence No. :- 0251- 2452866